Erkunde den Diamond Circle im Norden Island's an einem Tag
Iceland
With steadly increasing numbers of Tourists, Iceland has become one of the most popular travel destinations. There are not many places worldwide close to each other, where you can find unique landscape, Glaciers, Volcanoes, Waterfalls, see Puffins, northern lights or midnightsun. The land of Fire and Ice won't leave wishes unfulfilled. Places at the South of Iceland and the Golden Circle are well known. They have become very crowded, but you can still find hidden places at the North of Iceland at the Diamond Circle.
Die stetig steigenden Besucherzahlen haben Island zu einem der beliebtesten Reiseziele gemacht. Wo sonst liegen atemberaubende Landschaften, Gletscher, Gletscher, Wasserfälle nah beieinander und können Papageientaucher, Nordlichter und Mitternachtssonne bewundert werden. Ein Besuch des Landes von Feuer und Eis wird sicher keine Wünsche unerfüllt lassen. Nachdem Island schon lange kein Geheimtipp mehr ist, sind der Süden und der Golden Circle mittlerweile sehr überlaufen. Es bietet sich also an, den noch ziemlich unberührten Diamond Circle im Norden Islands zu erkunden.
Diamond Circle
As places at the South of Iceland are very crowded, we are trying to find hidden gems of untouched nature. Most people, who are not staying for long are going to the well known attractions at the Golden Circle. They are easy to reach from the Capital Reykjavík. But if you decided to go to visit the places at the Diamond Circle, you will create lifetime memories for sure. Each place at Diamond Circle – Goðafoss, Tjörnes, Ásbyrgi Canyon, Dettifoss, Grjótagjá and Mývatn, is a spectacular. They can be reached easily by car (no 4×4 wheel needed).
Der Diamant Kreis – die diamantene Rundfahrt
Nachdem der Süden mittlerweile sehr überlaufen ist, sind wir immer auf der Suche nach noch unentdeckten Plätzen, an denen wir die unberührte Natur Islands erleben können. Die meisten Touristen besuchen nach wie vor die Sehenswürdigkeiten am Golden Circle, da diese von der Hauptstadt Reykjavík einfach und schnell zu erreichen sind. Wer das unberührte Island genießen will, sollte sich die Sehenswürdigkeiten am Diamond Circle nicht entgehen lassen. Jeder der am Circle gelegenen Orte – Goðafoss, Tjörnes, Ásbyrgi Canyon, Dettifoss, Grjótagjá und Mývatn, ist für sich gesehen ein unvergesslicher Diamant, der bequem ohne Allradfahrzeug angefahren werden kann.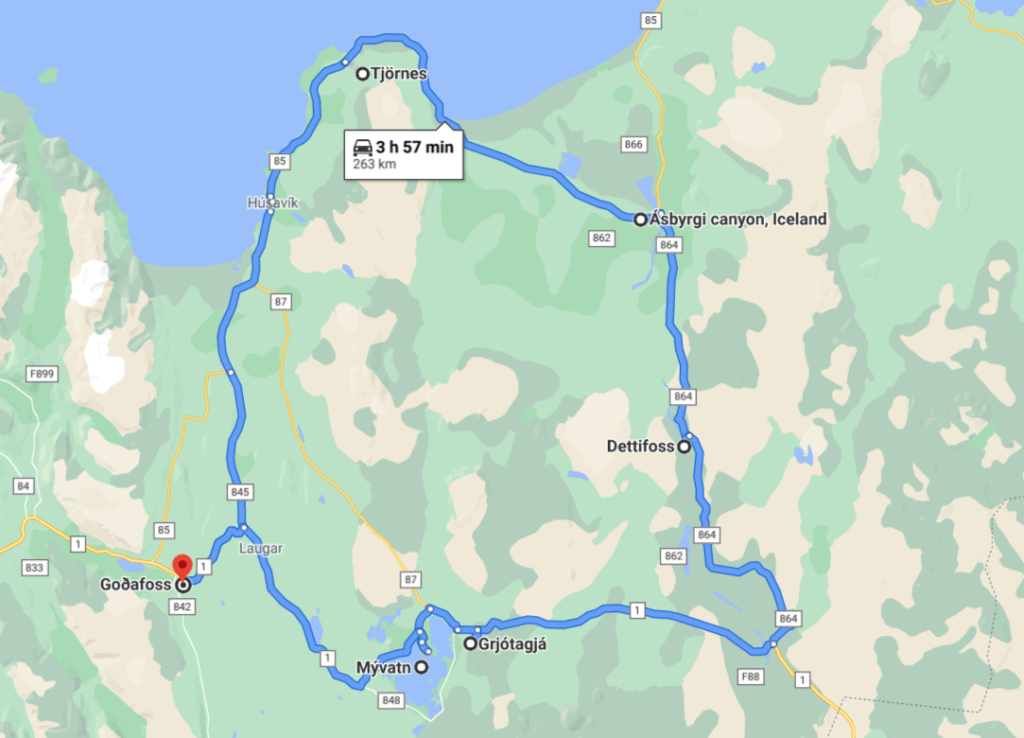 Goðafoss Waterfall
The Waterfall of Gods, located at the ring road, is Icland's most popular one at the North of the Island. The countless views and view points at both sides of the Waterfall, it's width and distance are really impressive. Midnight sun is turning the mountains at the background into a magical place. As many places at Iceland, this is a historical places for the locals. The Legend says that Vikings converted to Christianity here.
Goðafoss Wasserfall
Der Wasserfall der Götter, wie der Goðafoss auch genannt wird, liegt direkt an der Ringstraße und ist der Bekannteste im Norden der Insel. Nicht nur die an beiden Seiten gelegenen Aussichtspunkte bieten unzählige Möglichkeiten Bilder zu machen, sondern auch die Breite und Weite des Wasserfalls. Die Berge im Hintergrund kommen besonders zur Mitternachtssonne in Geltung, wenn diese in unterschiedlichen Rottönen sichtbar werden. Wie viele andere Orte Islands, hat auch dieser eine historische Bedeutung für die Einheimischen. Der Legende nach konvertierten die Wikinger hier zum Christentum.
Tjörnes & Puffins
The Puffins, which have become a symbol of Iceland also, can be found on some places around the Island. As Vík í Mýrdal is overcrowed during breeding season, we prefer to watch the colonies at a more peaceful area.
Tjörnes und die Papageientaucher
Mittlerweile haben es auch die Papageientaucher geschafft, zu einem Symbol Islands zu werden. Einer der bekanntesten Nistplätze auf der Insel ist zwar nach wie vor Vík í Mýrdal, allerdings ist dieser auch entsprechend überlaufen. Wir bevorzugen es deshalb, die nistenden Kolonien in einer friedlicheren Umgebung in Ruhe zu beobachten.
Ásbyrgi Canyon
Iceland has a lot of beautiful Canyons, but most of them are well known and crowded. The Ásbyrgi Canyonis a great alternative with unbelievable views.
Ásbyrgi Schlucht
Island ist auch für seine atemberaubenden Schluchten bekannt. Die meisten davon sind allerdings so populär, dass sie entsprechend überlaufen sind. Dem Touristenansturm lässt es sich wunderbar am Ásbyrgi Canyon entfliehen.
Diamond Circle – Dettifoss Waterfall
Up in the North, Dettifoss ist Iceland's most powerful Waterfall. With viewpoints located at both sides of "The Beast" – as locals call it, the chance is hight to see many rainbows, sometimes double rainbows, caused by the power of the fall.
Dettifoss Wasserfall
Hoch im Norden findet sich Islands kraftvollster Wasserfall. Mit Aussichtspunkten an beiden Seiten "des Biests", wie er von Einheimischen genannt wird, ist die Chance sehr hoch einen oder mehrere Regenbögen zu sehen, die durch die aufschäumende Gischt entstehen.
Diamond Circle – Grjótagjá Grotto – Cave
Italy is well known for the blue grotto, but Iceland has a hidden one too. In contrast to the blue grotto, however, Grjótagjá is a crevice in the rock. The underground lake was caused by the friction of European to Northamerican Continental Plate. Grjótagjá is a good alternative to overcrowded Þingvellir Nationalpark at the Golden Circle. Geothermal activity is heating the lake up to boiling water, so that the grotto is filled with sulfur vapor and the view steps down to it might be slippery.
Grjótagjá – Felsspalte
Italien ist unter anderem auch für die blaue Grotte bekannt, doch Island hat auch eine. Im Gegensatz zur blauen Grotte, handelt es sich dabei allerdings um eine Felsspalte. Der unterirdische See entstand durch das Zusammentreffen der Europäischen und Nordamerikanischen Kontinentalplatte. Wer also eine alternative zum Überlaufenen Þingvellir – Thingvellir Nationalpark am Golden Circle sucht, wird sich hier wohl fühlen. Die geothermale Aktivität bewirkt auch, dass der See fast kochend heiß und die Grotte mit Schwefeldampf gefüllt wird. Die wenigen Stufen hinab in die Grotte sollten deshalb vorsichtig hinabgestiegen werden, da sie rutschig sein könnten.
Diamond Circle – Mývatn & Lake
The lake of mosquitoes is one of the largest lakes at Iceland, located at a volcanic area. If you avoid the ongoing period of two weeks with mosquitoes at summer, the lake can turn to a magical place with clouds of mist.
Mývatn & See
Aus dem isländischen übersetzt liegt das "Mückenwasser" im Bereich des Krafla-Vulkansystems und ist der viertgrößte See des Landes. Wer sich nicht ausgerechnet die, im Sommer etwa zwei Wochen andauernde, Periode mit Mücken aussucht, kann hier mystische Momente erleben, da der See oftmals von Nebelschwaden eingerahmt wird.