Besuche Norwegens Fjorde / Strände, erlebe Nordlichter (Aurora Borealis) und die Mitternachtssonne auf den Lofoten
Norway's Lofoten Islands
Once you go there, you will return for sure. Norway's Lofoten Islands have much more to offer than amazing fjords and breeding places of clumsy Puffins. If you are searching for a peaceful place, untouched nature and cute villages, it's the perfect place. Midnight sun is turning the landscace into unbelievable colors at summer and if you visit the Lofoten at winter, you might have luck to see norhern lights, as we did.
Wer einmal hinfährt, wird auf alle Fälle zurückkommen. Jedenfalls war es bei uns so. Die Lofoten haben so viel mehr zu bieten als unglaubliche Fjorde und Nistplätze der Papageitaucher. Wenn du unberührte Natur suchst, kleine Fischerdörfchen sehen willst, ist es der perfekte Ort. Die Mitternachtssonne hat im Sommer in eine unglaubliche Farbpalette zu bieten und falls du die Lofoten im Winter besuchst, könntest du vielleicht – wie wir – Glück haben und Nordlichter sehen.
Best time to go to Norway's Lofoten Islands
We went there twice. In July to see Midnight sun for the first time. As we loved being there, we got back at February to explore Winter and Northern lights.
Wir waren bereits zwei Mal dort. Das erste Mal im Juli, um die Mitternachtssonne zu sehen. Nachdem wir es einfach unglaublich fanden, kamen wir im Februar zurück, um den Winter und die Nordlichter zu erleben.
How to get to Norway's Lofoten Islands
There are three aiports across the Lofoten. Harstad / Narvik at the North, Svolvær at the Middle and Leknes, located at the South of the Islands.
Die Lofoten haben drei Flughäfen. Harstadt / Narvik im Norden, Svolvær in der Mitte und Leknes, im Süden der Inseln.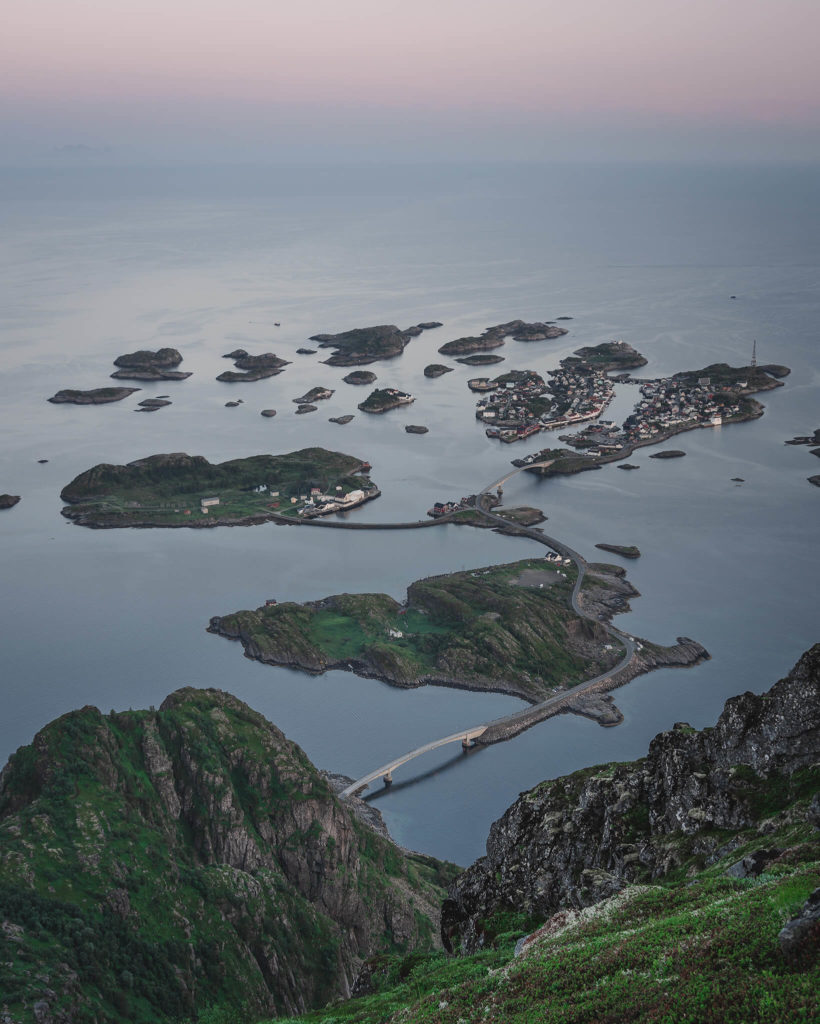 Sakrisøy
When people talk about Norway, they have cute little red cabins in their mind, but there is a village you shouldn't miss to see. Sakrisøy's yellow cabins and the ocean's color, will make you come back again for sure.
Wenn es um Norwegen geht, denkt jeder sofort an rote Hütten, aber es gibt einen Ort, den man auf jeden Fall sehen sollte. Wer Sakrisøy's gelbe Hütten und die unbeschreibliche Farbe des Ozeans dort erst gesehen hat, wird mit Sicherheit immer wieder kommen.
Henningsvær
The village became popular on Instagram for it's unique soccer field.
Das Fischerdorf wurde wegen seines außergewöhnlichen Fußballplatzes auf Instagram berühmt.
Norway's Lofoten Islands Beaches – Uttakleiv / Myrland / Haukland / Skagsanden
We couldn't believe our eyes as we saw how clear the water is. Felt like being at the caribic. All beaches are worth going to, but might be crowded at summer.
Wir kamen uns so vor als wären wir in der Karibik, als wir das klare Wasser sahen. Alle Strände sind gepflegt und einen Besuch wert, könnten aber im Sommer ziemlich voll sein.
Offersøykammen
The hike is easy and will take about a hour. Don't miss the chance to see the fjords from above.
Wer die leichte, etwa einstündige Wanderung auf sich nimmt, kann die Fjorde von oben genießen.
Mount Ryten and Kvalvika Beach
The hike to Kvalvika Beach is not easy, espacially at winter. To get to the beach you have to hike almost to the top of Mount Ryten and then go down across a scree field. If you don't want to take pictures at the beach it might be enough to enjoy the view to the beach from the top. Depending on changing weather and your condition it will take about two hours to get there.
Die Wanderung zum Kvalvika Strand ist nicht einfach, schon gar nicht im Winter. Du musst den Ryten bis fast oben hin besteigen, um dann über ein Geröllfeld wieder zum Strand abzusteigen. Falls du also nicht unbedingt Bilder am Strand machen willst, reicht es dir vielleicht die Aussicht hinab vom Berg zu genießen. Abhängig vom wechselhaften Wetter und deiner Kondition, solltest du etwa zwei Stunden einplanen.
Hamnøy
This place is known for it's cute red cabins.
Der Ort ist für seine knallroten Hütten bekannt.
Reine
Probably the most popular village at the Lofoten Islands.
Wahrscheinlich das bekannteste Fischerdorf der Lofoten.